冯健安,艺名书剑,男,中共党员,1977年6月生于广东新会,汉族,本科毕业。获优秀教师、优秀班主任、书画优秀指导教师、师德先进个人和最美教师等称号。
Feng Jian'an, a member of the Communist Party of China, was born in June 1977 in Xinhui, Guangdong Province, Han nationality, and graduated from university. It has won the titles of excellent teacher, excellent class teacher, excellent guide teacher of calligraphy and painting, advanced individual of teachers' morality and the most beautiful teacher.
看冯健安老师的作品,给人第一感觉,是柔润细腻。再仔细观赏,却有一种如入仙境的幻幻之感。眼前之画的确是真山真水真人的写生佳品,却亦如脱离了凡间烟尘般飘然如梦。这并非是冯老师以技法而能的刻意笔墨,而是存在于其心灵深处的,对那些一尘不染的,秀水灵山的澄透感怀。
Looking at Mr. Feng Jianan's works, the first impression is that it is soft and delicate. Watch it carefully, but there is a fantasy feeling like entering a fairyland. The painting in front of me is indeed a realistic sketch of real mountains, real waters, and real people, but it is as dreamy as being out of the smoke of the world. This is not Mr. Feng's deliberate pen and ink, which can be skillfully used, but it is deep in his soul, and he has deep and clear feelings for those who are spotless and beautiful.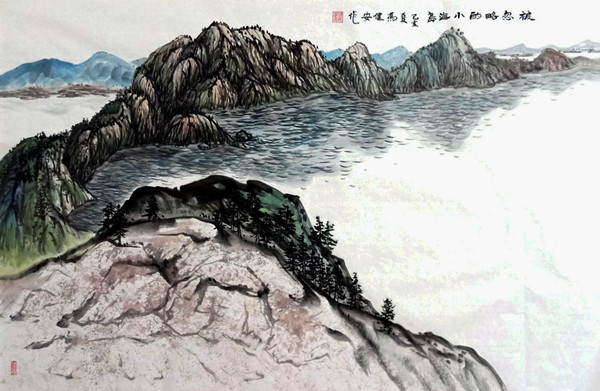 被忽略的小海岛80x145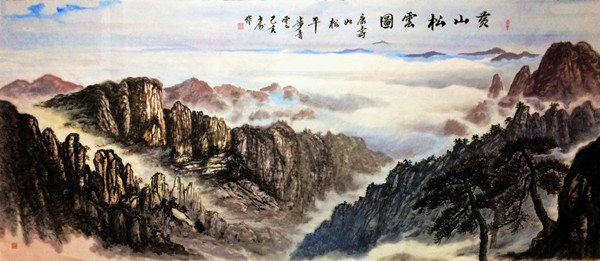 黄山松云图198X90
国家一级美术师;中国新闻杂志社艺术顾问;中宣盛世国际书画院院聘画家;中国国际现代艺术研究中心高级研究员;全国名人书画艺术界联合会委员;人民美术艺术家委员;北京中艺慧鑫文化有限公司艺术顾问;中华文化研究院艺术顾问;北京台湖书画院院士;中外名人艺术网"特级书画师";全国中小学书法教学联盟成员。
National first-class artist; China News Magazine art consultant; artist hired by Zhongxuan Shengshi International Painting and Calligraphy Academy; senior researcher of China International Modern Art Research Center; member of the National Celebrity Painting and Calligraphy Art Circle Federation; member of the People's Fine Arts Artists; Beijing Zhongyihui Art Consultant of Xin Culture Co., Ltd .; Art Consultant of Chinese Culture Research Institute; Academician of Beijing Taihu Painting and Calligraphy Academy;
冯健安老师"既有艺术的横眉,又有教育的孺子牛"。有人说他像蜡烛,为教育之路点亮光明;有人说他是一支画笔,在现代的画卷上增添光彩。冯老师是一位书画兼善者,他对于书画修习的态度,就犹如其画作中呈现出的沉实平和与端雅古拙气韵一样,没有浮夸的言辞,亦不炫耀于成就和名誉。只有实实在在的踏实专注,细水长流的书画乐趣。在他的每一幅作品中,都散发着一种厚远而沉实的气韵。
Mr. Feng Jian'an "has both artistic eyebrows and educational bullocks." Some say he is like a candle, lighting up the road to education; others say he is a paintbrush that adds glory to modern scrolls. Mr. Feng is a good man of both calligraphy and painting. His attitude towards the practice of calligraphy and painting is just like the calmness and calmness of his paintings. He has no exaggerated words, nor does he show off his achievements and reputation. Only the down-to-earth painting and painting fun are really solid and focused. In each of his works, there is a profound and solid charm.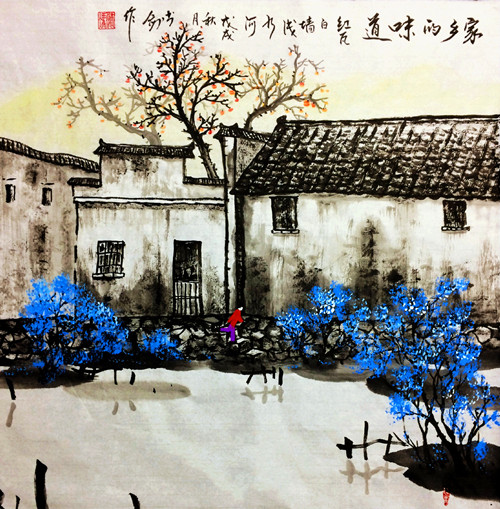 家乡的味道38X68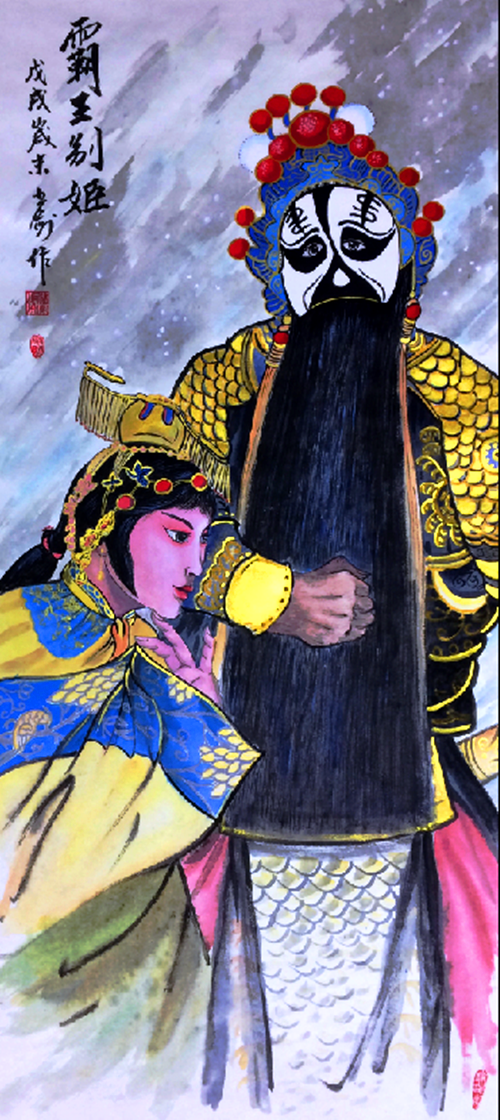 霸王别姬60X126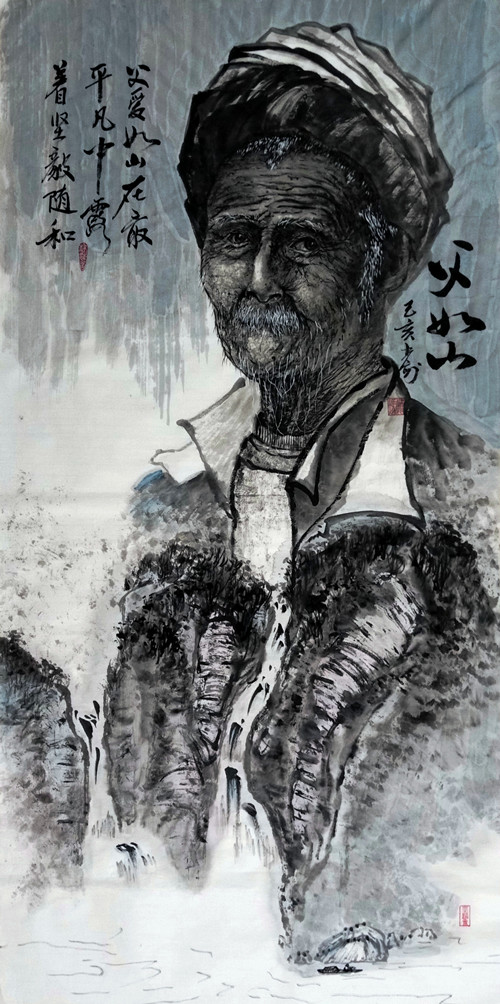 父如山138x69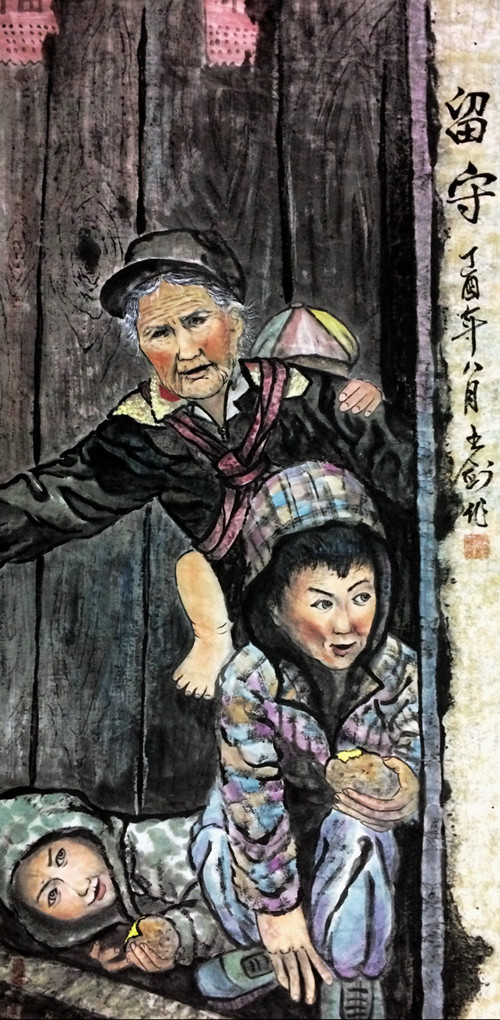 留守68X136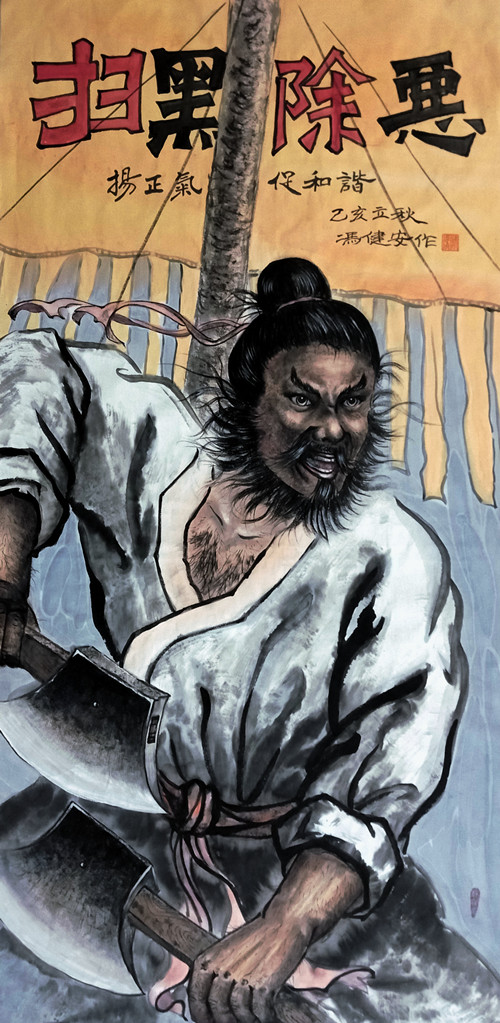 扫黑除恶138X69
被授予"中华文化名人"、"中华艺术家形象大使"、"青年杰出艺术家"、"青花杯.中国传统文化最高成就奖"、"中国百位杰出艺术家"、"中国当代英模人物"等荣誉称号。个人简历及作品入编《心纳万境》首届国展美术名家作品集等几十本典籍刊物并在人民日报网、央视网,人民网、中国经济网、人民日报、中国新闻杂志社等众多媒体报刊报道。
He has been awarded the honorary titles of "Celebrities of Chinese Culture", "Image Ambassadors of Chinese Artists", "Outstanding Young Artists", "Blue and White Cup. Highest Achievement in Chinese Traditional Culture", "Hundred Outstanding Chinese Artists", "Characters of Contemporary Chinese Model" . Personal resumes and works have been compiled into dozens of classic publications such as the collection of art masters of the first National Exhibition of "Mind Wanted" and published on People's Daily, CCTV, People's Daily, China Economic Network, People's Daily, China News Magazine, etc. Media reports.
静静观赏冯老师作品给人以造型生动、构图多变、色彩明丽、隽永淡雅之印象。他用笔洒脱,格调清新,淳朴自然,落墨见趣。浓厚中寓清淡,严谨中见灵活,精细不板滞,艳丽不庸俗。细观之,其画泼墨点染,把物象刻划得丰富又生动饱满,使画面呈现出清新秀丽的意境,从而更加优美、细腻、流畅、朴拙、生动。"继承古法,有所创新,艺无止境,不断前进。这是冯老师在书法学习之路上所尊崇的座右铭。对于古法经典,不仅要学习技法,更要体会其中的韵致。有了很好的体会和技法,再在循序渐进中不断探索,最终,形成自己独有的艺术风格的。"
Watching Mr. Feng's works quietly gives the impression of vivid shapes, compositional changes, bright colors, and timeless elegance. He is free and easy with a pen, fresh and simple, natural and interesting. The thick medium is light, the rigorous is flexible, the fine is not rigid, and the beautiful is not vulgar. On a closer look, his paintings are stained with ink and dots, and the objects are engraved richly and vividly, which makes the picture show a fresh and beautiful mood, which is more beautiful, delicate, smooth, simple and vivid. "Inheritance of ancient methods, innovation, endless art, and continuous advancement. This is the motto that Mr. Feng respects on the way of calligraphy. For ancient classics, we must not only learn techniques, but also appreciate the charm. Good experience and techniques, and then continue to explore in a gradual and gradual manner, and finally, form their own unique artistic style. "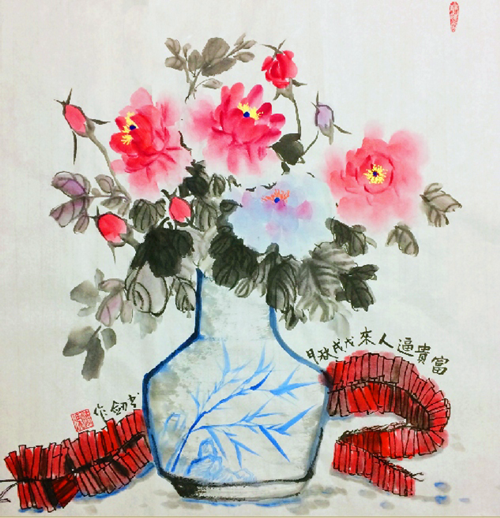 富贵逼人来69X136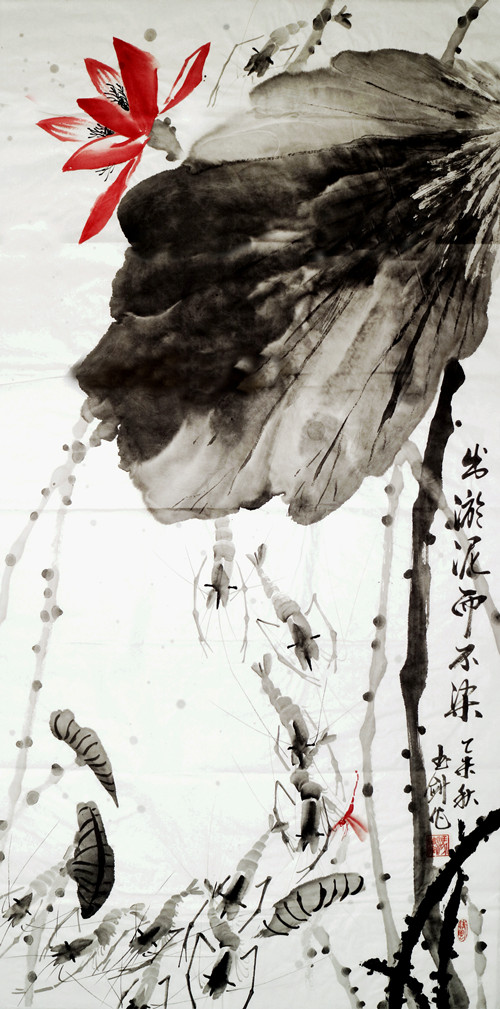 出淤泥而不染68X136
展翅高飞138X69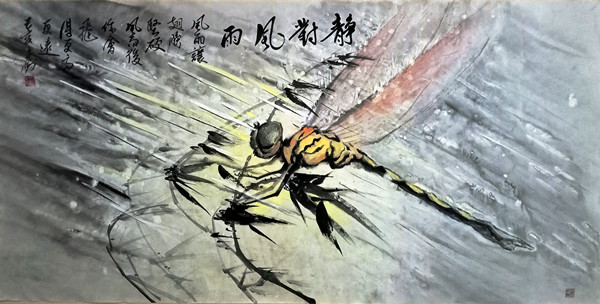 静待风雨69X138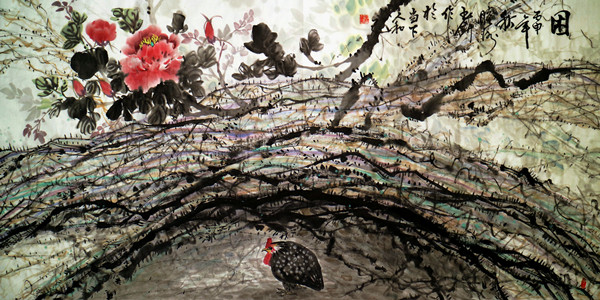 困69X138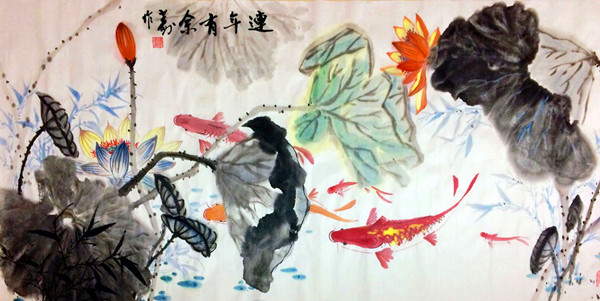 连年有余138X69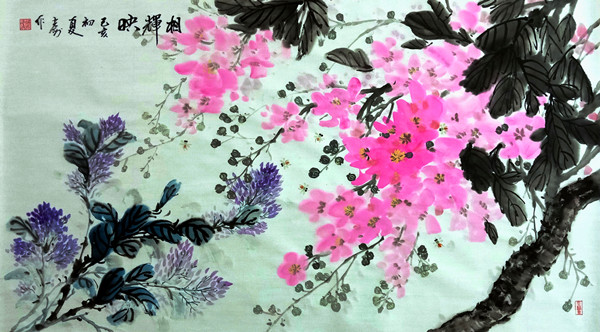 相辉映69X136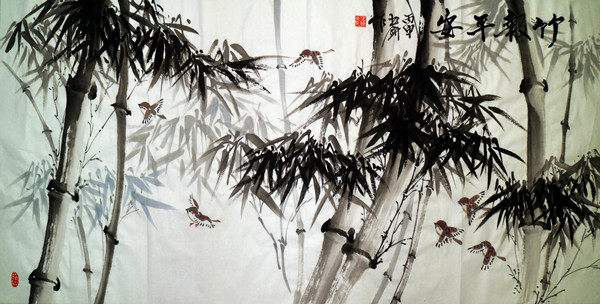 竹报平安69X138
个人简历事迹被央视老故事频道邀请进入《筑梦空间》栏目;被邀参加第二届中国(福州)世界遗产文化博览会和中国泰山艺术品博览会;经中国核心艺术家海外展播工程组委会遴选推荐,参与中欧文化交流匈牙利书画邀请展并被组委会授予中匈建交文化使者称号;作品在2018年10月15日(美国东部时间)美国纳斯达克证券交易所大屏进行荣誉展播。
Personal resumes were invited to enter the "Building Dream Space" column by CCTV Old Story Channel; invited to participate in the second China (Fuzhou) World Heritage Cultural Expo and China Taishan Art Fair; recommended by the Chinese core artist overseas exhibition engineering committee Participated in the Hungarian Calligraphy and Painting Invitational Exhibition of China-Europe Cultural Exchange and was awarded the title of Cultural Envoy of China-Hungary Diplomatic Relations by the Organizing Committee; his work was honored on October 15, 2018 (Eastern Time) on the large screen of the NASDAQ Stock Exchange.
虽然,他从没说过自己有如何宏大的抱负,但从这个简单的乡镇教师身上,能够让人解读出的,是充实和丰富的意义。而他对书画的孜孜以求,勤研不辍,正是中国艺术界正期待着的,即将诞生的一个艺术奇迹!
Although he never said how ambitious he was, what can be interpreted from this simple township teacher is full and rich meaning. And his diligent pursuit of calligraphy and painting, diligent research, is exactly what the Chinese art community is looking forward to, an upcoming artistic miracle!